Welcome to The DAC Members page!
Realizing that a web site is a public forum, we will not include members e-mail or phone numbers, unless given permission by each member.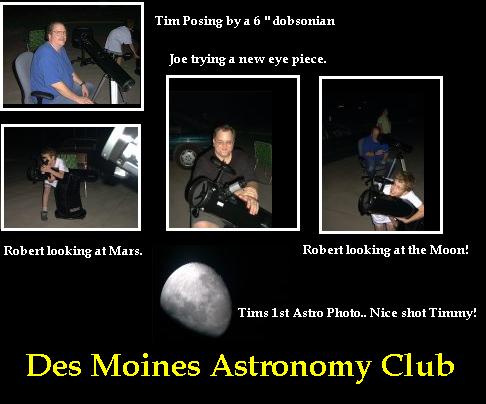 Linnea standing proudly by her 4.5" Newtonian Reflector.
~Cool Astro Resources Below~
Download Star Pilot
A full featured sky-mapping program for the Palm Computing® platform. It has the ability to plot stars, planets, and Messier objects in a standard skymap format.

Download Star Pilot Plus
A bundle of astronomy applications for the Palm Computing® platform. It includes Star Pilot, Sol! II, J-Moons!, and Solstice!

Download Star Pilot Advanced
The premier bundle of astronomy applications for the Palm Computing® platform. It includes Star Pilot, Sol! II, Moon Info!, J-Moons!, Messier!, Planets!, Sol System, and Solstice!

Download Night Sky
Night Sky is an application that is designed to help backyard astronomers, teachers, parents and any one else learn about the 88 constellations and their major stars. A simple user interface allows users to quickly display any of the constellations and a single tap further identifies any displayed star.

Download Sun & Moon
A bundle of Sol! II & Moon Info! designed to provide useful information about two two most important solar system objects. The information provided is valuable to astronomers as well as photographers, hikers, and just about anyone else who ventures outdoors.

Download Location Manager
All of the other applications listed on this page require this free program. It provides location data to the other applications without having to set it separately in each application.


Download Messier!
A complete Messier object observing program. It can display information and pictures about all Messier objects as well as keep an observer log that may be exported to your desktop computer.

Download Planets!
A complete planet observing program. It can display information about all planets as well as keep an observer log that may be exported to your desktop computer.

Download Sol System
A program designed to show the position and orbit for all the planets in the Sol system (Sol being the name of our star). This kind of display is sometimes called an orrery and is useful in seeing planetary alignment for various dates.

Download NGC!
A complete NGC/IC observing program. It can display information about over 13,000 NGC/IC objects as well as keep an observer log that may be exported to your desktop comp
September 2003 Moon Phase Calendar
| | | | | | | |
| --- | --- | --- | --- | --- | --- | --- |
| SUN | MON | TUE | WED | THU | FRI | SAT |
| | 1 | 2 | 3 | 4 | 5 | 6 |
| 7 | 8 | 9 | 10 | 11 | 12 | 13 |
| 14 | 15 | 16 | 17 | 18 | 19 | TODAY 20 |
| 21 | 22 | 23 | 24 | 25 | 26 | 27 |
| 28 | 29 | 30 | | | | |
September 2003 Moon Phase Calendar

want to buy a telescope HUH?
used telescopes from all around the country!
Click here for a Great Beginners guide to telescopes.
DAC ASTRO tools

Download our (4) recommend

DAC astronomy

tools here.

1. CCD tools for editing, and using a cheap web cam for astro photos.

2. We have (3) observation sheets for field observation note taking!

3. Complete (Astronomers. checklist), for field, and star party use.

4. And lastly a photo log for recording observation details.

Distant Suns 4.0

Download Distant Suns 4.0 Free version

Download the best free astronomy program out there!

Deep Sky 2003

Download Deep Sky Free

Download this free astronomy program
Here are some Des Moines, Iowa resources to use with Astronomy
HERE ARE SOME GREAT
LINKS AND ASTRONOMY RESOURCES.
Observing Resources
International Astronomical Union: Astronomy Headlines

This page contains brief information on recent astronomical discoveries as reported in the International Astronomical Union Circulars (IAUCs) and the Minor Planet Electronic Circulars (MPECs), as well as links to ephemerides and orbital elements for comets and minor planets.

Observable Comets

lists links to orbital elements and ephemerides of (potentially) observable comets

Approaching Comets

This website is devoted to monitoring all newly detected unknown objects and identified comets which have the potential for becoming significant events in the near future. It is kept updated very frequently, as new information and/or observations come in.

BAA Comet Section

lists links to news, current magnitudes and ephemerides of currently observable comets.

Minor Planet Mailing List

These pages contain information about the Minor Planet Mailing List as well as a number of interesting and important ideas for the minor planet observer.

American Association of Variable Star Observers

The AAVSO is the largest organization of variable star observers worldwide. You can get daily updates and find out more about them, the projects they sponsor and the data they make available to astronomers around the world.

The Minima of Algol

The star Algol (Beta Persei) was the first eclipsing variable star ever discovered, and it's still the most famous one. You can check on it whenever you step outdoors on nights when Perseus is in view.

Solar Observing

The Sun is a fascinating astronomical object to observe. Extreme care is required if you wish to observe the Sun safely.

Never look directly at the Sun with the naked eye or with any optical instrument.

You must be familiar with the safe observing methods before attempting to observe the Sun.

The Messier Catalog

A listing of images and information on the Messier objects with links to other deep sky catalogues (NGC objects, etc.)

The Night Sky Live

The night sky above some of the world's premier observatories. Click on a star to go to live pictures taken by the fisheye CONtinuous CAMeras (CONCAMs) in operation there. Major sponsors of the CONCAM project include the National Science Foundation and the Dept. of Physics at Michigan Technological University.

The Sky at Night

The BBC's dedicated Sky at Night website. Contains realvideo edition of last programme and links to the newsletter and other items.

BBC Space Site

The BBC's dedicated Space website. Contains links to various observing resources.
Audio/Video Programmes for September 2003
Events for September 2003
A Possible Nova In Scutum

A bright nova was discovered by H. Nishimura on August 28.577 with 8.5 mag. The eruption was also detected in the ASAS-3 (vsnet-campaign-nova 1364). The nova was soon confirmed by M. Linnolt and R. Stubbings on August 30 (vsnet-campaign-nova 1365, 1368).

HubbleSite: A Rendezvous With Mars

HubbleSite is showcasing the newest Mars images from the Hubble Space Telescope. To accommodate the tremendous public demand for these images, their regular Web pages have been taken temporarily offline. These pages will return once this special event is over.

MarsMania

MarsMania will help you see Mars, tell you about space missions there and answer many of your questions about this amazing planet. Our special guide will bring you the latest news reports - and point you to the best links and books to read to find out more.

Observations of Mars - 2003 (Soc. Popular Astronomy)

The Red Planet is becoming well placed for observation and will be at its closest to the Earth for nearly 60,000 years in August. Send your observations to the Planetary Section Director and we'll put the best on this page.

The 2003 Close Approach of Mars

In the last half of August and first half of September, Mars will be closer and thus brighter than usual in our skies, and visible for most of the night. And on the night of August 26-27, Mars will actually be closer to the Earth than it has been in about 60,000 years (the last time it was this close was 57,617 BCE which was a little before my time, and yours too probably!) Even at this closest approach, however, Mars will still be about 35 million miles away.

Timeline of Mars events for 2003 and Early 2004

On August 27, 2003, Mars will be closer to Earth than it has been for many millennia. But observers will be able to enjoy the extroadinary event much longer than just that one day. Here is a guide describing what to look for when, which will help you to take advantage of Mars's latest opposition throughout the year.

Mars in 2003: Which Side Is Visible?

To compare what you see on Mars with a map, you need to know which side of the planet youre looking at. This is given by the longitude of the central meridian (CM) the Martian longitude of the imaginary line down the center of the planet's disk from pole to pole. It is also helpful to know which of the planet's poles is tipped toward Earth, and whether the planet's axis is straight up and down or tipped clockwise or counterclockwise.

The Martian Moons in 2003

Have you ever seen Mars's moons, Phobos and Deimos, in your telescope? From July through September 2003, conditions for glimpsing the fleet orbs are as good as they ever get. Just don't expect to have an easy time of it!

Martian Flare Watch

Will Martian flares like those observed in 2001 appear again in 2003? It appears so! Two transient brightenings have already been reported, and amateur and professional astronomers will be watching the red planet closely for more.

Fun When the Sun Goes Down

Summertime may mean longer days and shorter nights, but the beautiful weather keeps people outdoors until the last rays of sunshine have disappeared beyond the horizon, and the night sky is soon glittering with stars. Every week this summer the universe offers observers something new to explore. From meteor showers to Milky Way splendors to Mars at its best in thousands of years, a bevy of unique opportunities awaits the eager observer in the summer of 2003.

The 2003 Perseids in Moonlight

The Perseid meteor shower, an annual celestial event that's a favorite of skywatchers in the Northern Hemisphere, peaks at 1:00 a.m. EDT on August 13, 2003. But light from the Moon, one day past full, will wash out many of the shower's faint meteors.

Approaching Mars

Earth and Mars are converging for a close encounter in August. The red planet is already an appealing target for sky watchers.

September Messier Objects

- a list of objects visible this month. All are possible with binoculars, most are easy even with small binoculars.
What is collimating, anyway?
collimating a telescope is lining up its optical components (lenses, mirrors, prisms, eyepieces) in their proper positions. This should be accurately done, or else the image quality will suffer. Different telescope types, like Newtonian, Schmidt-Cassegrain, or refractors all need good collimation.
| | |
| --- | --- |
| Collimated: | NON-Collimated |
collimating your Dobsonian or Newtonian


A collimator is a tool used to 'collimate' or align the optical system in a telescope. Using a 35-mm canister is an inexpensive and fairly accurate way to align the optics of your Newtonian telescope. A 35-mm film canister will usually fit into the 1.25 inch eyepiece holders on the focusers of most telescopes. Fuji Film canisters fit better than those from Kodak.

You will need to do two things to collimate the optical system.

Put a dot of some sort exactly in the center of your primary mirror. A dot of paint or a small stick-on dot are commonly used. You do not need to fear that it will cut down on the light gathering capability of your mirror or otherwise damage the mirror, since it will be obstructed by the secondary mirror, the one in the spider, anyway.

Put a small 1/8 inch hole exactly in the center of bottom of the 35-mm film canister.
The procedure is as follows.
Insert the canister with the hole into the eyepiece holder, instead of an eyepiece.

Look at the mirror in the bottom of the telescope through the hole in the canister. You should see a reflection of the hole in the bottom of the canister. Be sure to do this in a well lighted room or outdoors, or you may not see the hole reflected in the mirror.

If the hole in the canister is exactly aligned with the dot that you put in the center of the mirror, you do not need to do anything else, as the optical system is collimated.

If the hole in the canister is not aligned with the dot in the center of the mirror, then adjust the position of the primary mirror using the three set screws in the base of the mirror mount until it is. You may need to have two people to help do this, one to look, and one to adjust. Also, this may be difficult, as some mounts may not have screws, especially Dobsonians, or they may not have wing nuts. You will have to work this out with your individual telescope and its configuration. A modification may be in order.

When you have adjusted the mirror by adjusting the screws until the dot on the mirror exactly lines up with the reflection of the hole in the bottom of the film canister, Voila! Your optical system is collimated.
If you want a truly accurate collimation, you will ultimately need to get a laser collimator. The cost may vary from less than $100 to more than $250, depending on the vendor.
Tools for
Collimating my "Dob"

Joe Schlatter, Jr
Collimating
my
Dobsonian Reflector
Telescope

Introduction

This article relates my experiences in collimating my Dobsonian-mounted

Newtonian reflector telescope (commonly referred to as a "Dob").

First, let me stress a few points:

I am a beginning, novice amateur astronomer.

I purchased this telescope in January 2003 -- it's the first scope

I have ever owned.

I am not:

| | |
| --- | --- |
| | Optical engineer |
| | Professional astronomer |
| | Physics professor |
| | Or any other type of expert in telescopes and optics. |

I am just an old retired Army colonel trying to keep himself busy until

I move into a nursing home.

Now, having said that, here are some tricks I developed in the process

of collimating my Orion XT-8 Dobsonian telescope. What, you ask, is

collimation? It's the process of getting all the optics in the scope lined up

properly. If collimation is not correct, the scope's seeing ability is

degraded -- more out of collimation, more degraded.

Links

Here are several links that do a much better job than I ever could

of explaining the theory and practice of collimating Newtonian reflector

telescopes. I recommend you go to each of these, print them, and read

them before starting to collimate your scope.

Mel Bartels' site is my favorite. He has several useful sketches.

I captured his sketches as jpg files and printed them on my color printer;

they were quite helpful in collimating my scope.

Owner's manual

Your scope should come with an owner's manual that has collimation

instructions. Read it and read it again. The manufacturers really do

know what they are talking about.

How often to collimate

I wish I could answer this question with some degree of scientific

certainty -- but -- this is what I have learned from owning my scope

for two months.

If it's a new scope, collimate it.
If it's a scope of unknown origin and you don't know when it was last collimated, collimate it.
Once you have collimated it, keep your hands off it.

If all you do is move from the garage (or wherever you keep it)

to the backyard, keep your hands off it.

If you toss it in the back of the car/truck and bounce it out to a

dark-sky site, take along the Cheshire eyepiece and check the

collimation when you set up; ditto for when you return home.

Collimating tools

My scope came with a single collimating eyepiece. I splurged and purchased

a set of collimating tools manufactured by Tectron and sold by

High Point Scientific. I recommend these items -- buy the set and

they come with a booklet on collimation. Here is a photo of the

three collimating tools that make up the set, along with the collimating

eyepiece that came with my scope.

This is a set of Tectron collimating tools/eyepieces and the collimating

eyepiece that came with my scope. These are, from left to right:

Cheshire sight. I use this only in the dark.
Sight tube -- you will use this first (the tallest item).

Collimating eyepiece, also called an "automatic collimator."

Use this second. It is NOT automatic -- you do the collimation,

it helps.

Collimating eyepiece that came with the scope (shortest item).

You could collimate the scope with the small collimating eyepiece that

came with it -- the other items make collimation much easier.

This is a view of the collimating tools/eyepieces with three of them turned

upside-down. Note inside each of these the inside end surface is mirrored

-- this causes the eyepiece to reflect light back into the scope tube so

you can see what you are doing. Note that the sight tube is (1) longer

than the others and (2) has a crosshair.

This is a front view of the Cheshire. It has an mirrored surface set at a

45-degree angle and a hole in the mirror and in the top so you can look

into the scope through the mirror. More on this later -- much later.
view my guestbook | sign my guestbook